Diocese of Steubenville - Family and Social Concerns (Catholic Charities) at 422 Washington Street, Steubenville, OH 43952 US - Religious Liberty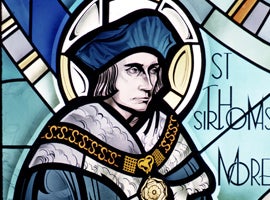 Religious freedom expresses what is unique about the human person, for it allows us to direct our personal and social life to God, in whose light the identity, meaning and purpose of the person are fully understood. To deny or arbitrarily restrict this freedom is to foster a reductive vision of the human person; to eclipse the public role of religion is to create a society which is unjust, inasmuch as it fails to take account of the true nature of the human person; it is to stifle the growth of the authentic and lasting peace of the whole human family.

For this reason, I implore all men and women of good will to renew their commitment to building a world where all are free to profess their religion or faith, and to express their love of God with all their heart, with all their soul and with all their mind (cf. Mt 22:37).
Religious liberty is an inherent right of the human person, a fundament aspect of our human dignity. Individuals and social institutions (including government entities) have a duty to respect the religious freedom of other individuals and institutions.
Sadly, this fundamental right, guaranteed by the US Constitution, is under attack. (See
Current Threats to Religious Liberty
on the US Bishops website.) In response to these attacks on religious freedom, the Bishops of the United States have called on all Catholics and citizens to join efforts to defend this fundamental right.
Special Events
2013 Fortnight for Freedom: June 21 to July 4
The U.S. bishops have called for a second
Fortnight for Freedom,
a two-week period of prayer and action, to address many current challenges to religious liberty, including the August 1, 2013 deadline for religious organizations to comply with the HHS mandate; Supreme Court rulings that could redefine marriage in June, and religious liberty concerns in areas such as immigration and humanitarian services.
Read more from the US Bishops website here.
Fortnight for Freedom activities in the Diocese of Steubenville include the following:

JUNE 21

Mass for Fortnight For Freedom Offered by Bishop Monforton. Holy Name Cathedral in Steubenville, 7:00 PM.

JUNE 22

Mass for Fortnight For Freedom Offered by Bishop Monforton. St. Mary Church in Marietta, 5:30 PM.

JULY 4

For the conclusion of the Fortnight for Freedom, many parishes will be offering Mass on Independence Day for the intention of the protection of religious freedom in the United States and the world, and ringing their church bells at 12:00 Noon to demonstrate our solidarity in the stand for religious freedom.

All the parishes of the diocese are being provided special prayer cards for Religious Liberty to distribute.

Resources
The following resources are drawn from the US Bishops website. For more resources, visit
http://www.usccb.org/freedom
.
Overview/General Resources:

Bulletin Inserts:


Other Resources: