Diocese of Steubenville - Family and Social Concerns (Catholic Charities) at 422 Washington Street, Steubenville, OH 43952 US - Religious Liberty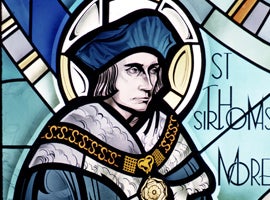 Religious freedom expresses what is unique about the human person, for it allows us to direct our personal and social life to God, in whose light the identity, meaning and purpose of the person are fully understood. To deny or arbitrarily restrict this freedom is to foster a reductive vision of the human person; to eclipse the public role of religion is to create a society which is unjust, inasmuch as it fails to take account of the true nature of the human person; it is to stifle the growth of the authentic and lasting peace of the whole human family.

For this reason, I implore all men and women of good will to renew their commitment to building a world where all are free to profess their religion or faith, and to express their love of God with all their heart, with all their soul and with all their mind (cf. Mt 22:37).
Religious liberty is an inherent right of the human person, a fundament aspect of our human dignity. Individuals and social institutions (including government entities) have a duty to respect the religious freedom of other individuals and institutions.
Sadly, this fundamental right, guaranteed by the US Constitution, is under attack. (See
Current Threats to Religious Liberty
on the US Bishops website.) In response to these attacks on religious freedom, the Bishops of the United States have called on all Catholics and citizens to join efforts to defend this fundamental right.
Special Events
Fortnight for Freedom: June 21 to July 4, 2014

The Fortnight for Freedom: Freedom to Serve will take place from June 21 to July 4, 2014, a time when our liturgical calendar celebrates a series of great martyrs who remained faithful in the face of persecution by political power—St. Thomas More and St. John Fisher, St. John the Baptist, SS. Peter and Paul, and the First Martyrs of the Church of Rome. The theme of this year's Fortnight will focus on the freedom to serve the poor and vulnerable in accord with human dignity and the Church's teaching.
Fortnight for Freedom activities in the Diocese of Steubenville include the following:

| | |
| --- | --- |
| Jun 21 | Opening Mass for the Fortnight for Freedom, celebrated by Bishop Monforton, at 8:30 AM at Holy Family Church in Steubenville. |
| Jul 4 | Masses offered in parishes for the protection of religious freedom in the United States and around the world |
| | (Other prayers and activities vary by parish.) |
Resources
The following resources are drawn from the US Bishops website. For more resources, visit
http://www.usccb.org/freedom
.
General Resources:
Prayer Resources:

Educational Resources: