Diocese of Lexington at 1310 West Main Street, Lexington, KY 40508-2048 US - Home
Welcome to the Roman Catholic Diocese of Lexington, KY
This webpage has moved to www.cdlex.org.
Serra Club encourages religious vocations and supports those who answer the call
On April 8 the diocesan Serra Club will host an open-house for those interested in learning how they can join in the group's effort to promote vocations. The event, held at the Cathedral of Christ the King in Lexington, will begin with a Rosary and Mass for vocations, followed by a time for learning more about the club. Father Steve Roberts, Vocation Director for the Diocese, will officiate and speak on the importance of vocations.
---
Homily given for the "Mass for God & Country"
Bishop Ronald W. Gainer

November 3, 2012
Excerpt:
"My friends in Christ, let us not underestimate the role we play in our nation's present drama. Let us not fall for the growing misunderstanding of the real meaning of the separation of Church and State. The separation of Church and State cannot mean that moral issues have no civil relevance or that good and evil must not be called such in the public square and political arenas. "
Read the full homily here
---
The Light Is ON For You
This Lent, Catholics in the Diocese of Lexington, especially those who have been away from the Church or the sacrament, are invited to experience God's mercy and forgiveness through the Sacrament of Reconciliation. All Catholic churches in the Diocese will be open on Wednesday evenings, usually 6:30 p.m.—8:00 p.m., for confession and quiet prayer.

Click here for more information.

We sincerely thank the (Arch)Dioceses of Washington and Arlington who originated and developed the materials we are privileged to use.
---
Forming Consciences for Faithful Citizenship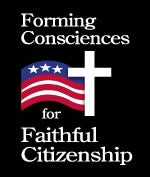 "Responsible citizenship is a virtue, and participation in political life is a moral obligation." -- Forming Consciences for Faithful Citizenship The United States Conference of Catholic Bishops (USCCB) provides many resources on forming the conscience with regards to participation ...
---
Fortnight for Freedom-July 4, 2012 Cathedral of Christ the King
"The challenge facing you, dear friends, is to increase people's awareness of the importance of religious freedom for society; to defend that freedom against those who would take religion out of the public domain and establish secularism as America's official faith." Those ...
---
Letter from Bishop Gainer -Federal Health and Human Services Mandate.
February 9, 2012

Dear Brothers and Sisters in Christ,

On August 1, 2011, the US Department of Health and Human Services (HHS) issued an "interim final rule" that requires virtually all private health insurance plans to include coverage for all FDA-approved prescription contraceptives, abortifacients, female sterilization procedures and related "patient education and counseling for all women with reproductive capacity." Despite outcries opposing the regulation, on January 20, 2012, HHS Secretary, Kathleen Sibelius, responded "… We have decided to add an additional element to the final rule (mandating prevention benefits)...........

(click more to read the full letter)
---
Now airing in the Diocese of Lexington: "Norma", a television commercial featuring "Jane Roe" of Roe v. Wade
---
Monsignor Ralph Beiting obituary
Father Ralph W. Beiting, mountain pastor and founder of the Father Beiting Appalachian Mission Center, dead at 88 Ashland. Father Ralph W. Beiting, pastor of St. Jude Parish, Louisa, and founder of Father Beiting Appalachian Mission Center, died Thursday morning, August 9, at 1:10 a.m. in ...
---